Shopping Cart
Your Cart is Empty
There was an error with PayPal
Click here to try again
Thank you for your business!
You should be receiving an order confirmation from Paypal shortly.
Exit Shopping Cart
| | |
| --- | --- |
| Posted on November 16, 2010 at 3:25 AM | |
 Now that I was in Delhi, I figured I'd get the Chinese visa. A week of fever, lack of appetite and loss of weight (stomach infection) was followed by another one that took place in the Chinese visa office. I met Alex, who, after a period of pretty unstable health conditions, got bit by a dog, thus having to get many vaccinations against rabies. The approaching expiration of his visa prevented him from joining me on my way north. However, we agreed on meeting in Nepal and going to Tibet together.
During my stay in India it was the third time that I visited Rishikesh in the north. This place has become one of the greatest Indian centre for meditation and yoga. I first got there in January, in the dead season. My second visit was in February, when we went up to the Ganges on one of the most important days of the 3-month-long Kumbh Mela. Back then, the vast pilgrimage doubled the duration of the bus journey, so we missed the main events.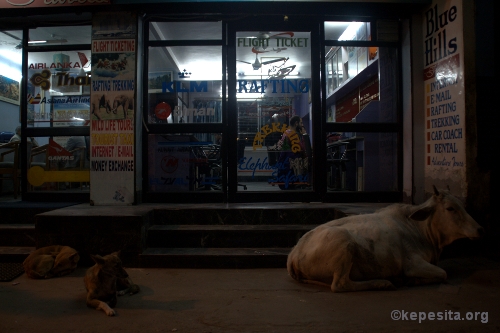 My first impression was as follows: this is a sale for the knowledge of thousands of years mixed with a little bit of rafting, concealed in spiritual fog. Since then, my view has partly changed.
Many ashrams offer courses for meditation and yoga, mostly for free. However, there's a large service industry around it. Hotels, sellers, taxi drivers, fortune-tellers, spiritual advisors, tourist offices offering rafting and mountain hikes. Uncountable tourists and Indians come to Rishikesh in order to learn yoga, meditation techniques or just smoke the marijuana of the Himalayas.
I participated in the "satsang" of the Brazilian Prem Baba, I met Malaika -who I got to know back in Agra- again, and other youngsters, too, from all over the world. I visited the place that has become the "prey" of the jungle, the Beatles Ashram, where in the past the members of the well-known band spent their meditation. I went on a pilgrimage to the Krishna temple hidden deep in the mountains of the Himalayas. This meant a fair amount of kilometres' hike. Sweating and pretty much out of breath, I sat down on a large rock so that I can get some air. Two old ladies –with "forests" on their heads- passed me, chatting joyfully…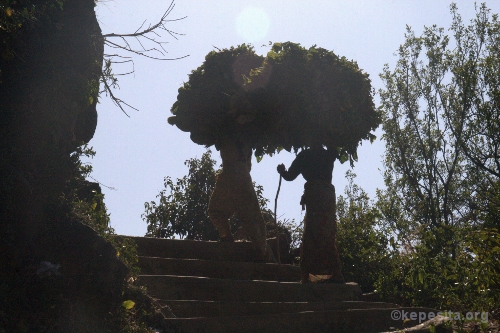 I got to know a guy who owned a candy store in the town nearby, and, according to his telling, also took big part in the organizing of Kumbh Mela. He said, next day we should go together, he'll take me to important places, I could stay in the gurus' tents, he could even get me into V.I.P. places, etc. Ready to "fight" I went to bed that night.
Days 291-292. Kumbh Mela
Next day I crossed the river where, quite surprisingly, I found and reserved a rickshaw that would get us to Haridwar. After that, I waited for hours, and the rickshaw was gone, of course. It was already afternoon but the guy and his friends didn't show up. So I set out walking. Hundreds, thousands of people were heading the same direction. After a couple of kilometres I got a ride from a motorcyclist. He dropped me off at a crossing, where, from out of the blue, an empty truck turned up and took me for half a dollar really close to the wasps' nest of Haridwar. Following the folks I was walking on a bridge. As far as the eye could see, there were huge tents, giving roof for millions of pilgrims. Thanks to a couple of hoursof walking and enquiring, I had some information on what would happen where the following day. It was also brought to my attention that in certain places only the gurus and journalists have access.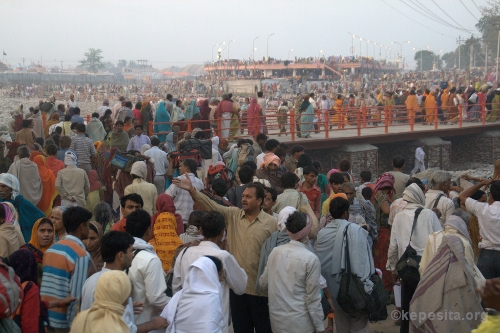 I stepped to a police officer and told him that in the chaos I lost my V.I.P. pass and asked him where I could find a new one. I was directed to a police tent where they had me write down what happened. Eventually, I got a stamp on my paper, the officer signed it and I was sent to the Media Centre. Amongst editing rooms and meeting places I found the man in question. He thoroughly read the paper and told me that it was already late, almost nobody is in the offices, so I couldn't get my card. However, he wrote down a couple of lines, stamped and signed it, and, giving it to me he said that would help.
In the company of a thousand people, I was heading to the main bathing point. It was dark already, the air chilly but that apparently didn't stop people from stepping in the river promising cleansing. Some were pushing harshly, others were more chilled-out, but there was one thing common in them: they all threw themselves in the foam in the certain belief/knowing that this would cleanse them.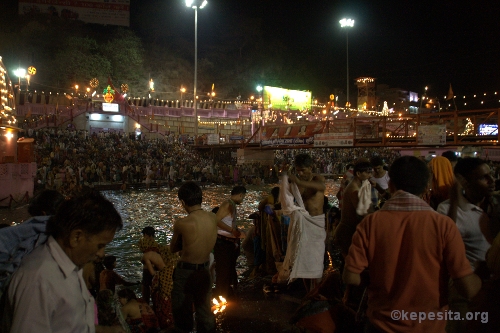 At night I got back to the city of tents, where, at many places there were still theatre plays going on. I didn't have a place to stay, yet. I returned to the huge Media Centre tent. There were some folks sitting at a place. I engaged in conversation with a lady, telling her I wouldn't get to my hotel room that day and asked her if she knew of any places in the Media Centre where I could get some sleep. It turned out her and her collegues were "as well" in the same situation, and they were just going to conquer a couple of couches in the room. I lay down on a carpet in a corner and fell asleep very quickly.
I woke up being really cold. The Sun was already rising when I had my "breakfast", a cup of hot tea in one of the town's streets. Then, following the people, I started to head to the bathing point. The bridges, flyovers and corridors (created for this special occasion) running in many directions, were full, moreover –as I was let known later- did not empty for the night. Being the main day of the festival, the central area was closed for hours so that only sacred people, gurus and their families and closest followers could bath. Millions of people outside this circle "had to" accept the hours of night.
The last Kumbh Mela, to put it gently, turned into a nightmare. Gurus fought with each other, people were trampling others to death. This time, the police and the army was present, with great forces, keeping discipline in every corner of the city. Instead of yelling, they directed people by using whistles.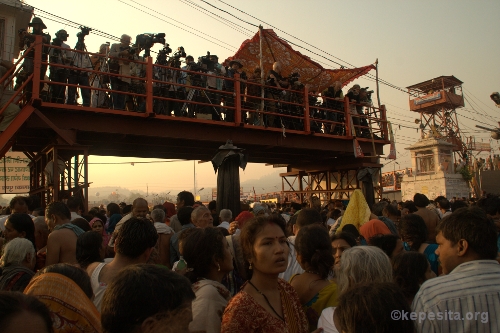 I got pushed into the central little island, in the centre of which stood the media tower, full of cameramen and photographers. The "paper" I owned did not allow me to go up there. However, later on I had to admit that this actually saved me from getting stuck for the rest of the day in a place unfavourable with regards to documentation.
After 1-2 hours of photographing and filming, I left the island and got some food. I sat down on a bank to get some rest. A girl walked up to me, asked for a lighter, then settled down next to me. The English-born Lara has been studying photographing in her most favourite place, Italy, for years now. She came to Kumbh Mela in order to get some material for her final examination. From the morning of the day before, she has been on her foot constantly. She was smoking her cigarette wearily. The highlight of the day, the bathing time of the gurus was drawing near. More and more places were closed by soldiers. We wrote down Lara's name on "the paper" in the hope that a few doors would open up for us. During the upcoming hours there were situations where "the paper" did help, and there were some where it did not. To sum up, it was an almost perfect guide for us.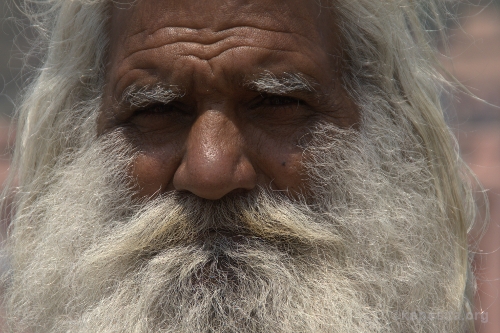 Joining the mass of people, we did another circle around the island. Then, we lay down at a shady place for an hour or so, waiting for the gurus and their followers to show up. Lara immediately fell asleep, and, after about half an hour, she woke up a little bit refreshed. Due to "the paper", we made friends with the sodiers stationing nearby and their sikh captain.
When the first "baba" and his followers turned up, a very good view of the events opened up for us. Moreover, opening the cordons ahead of us for a moment, we could join the people heading to the river. The little island got completely emptied, but the gurus bathed on the other side of the river. On the island many police officers were standing, and the media people locked in the tower, supposedly not too happy with their situation. We were able to documentate the cleansing of the gurus from a very short distance: we saw when some of them got washed in ash, we experienced fanatism some times, or the presence of calm concentration. Although where we were standing, photographing and filming was forbidden, the police officers had better thing to do than chasing us round.
After a couple of circles like that, saying goodbye to the V.I.P. section, we went to see the part of the river which was visited by "common people". Only right there did we have the chance to realize how many people of the Hindu world were going on a pilgrimage to the Kumbh Mela. As far as one could see, the bank and the outer meters of the river were flooded by people. After a fair amount of kilometres' walking and a rickshaw ride, we said goodbye to each other and fainted into our beds.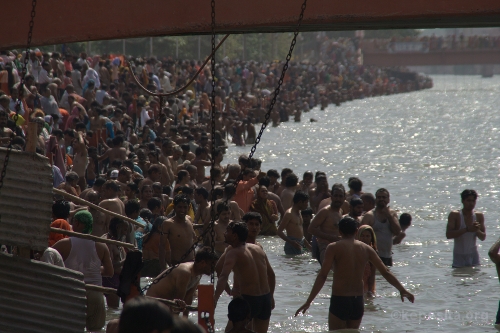 From Rishikesh towards Nepal I set out twice. First, relying on what the map showed, I set off northwards. Walking and a truck ride made me realize that in reality, the road on the map runs totally in another way. Taking the advice of a truck driver, a few vendors and a police officer, I hitch-hiked back to Rishikesh and crossed the river on a bridge. There it turned out that, from that place, there's only one bus per day (in the early hours) and taxis that go eastwards, plus they go on another route. I gave up for the day.
Getting back to my former accomodation I got to know the Dutch Ben. Having a cup of tea, he shared his view of the future with me. He told me about the main mafias that strive for world domination and how –thanks to his international connections- he started to serve an Indian guru with whom they "managed" to bring peace to Nepal (I'm writing this blog in Kathmandu, where the maoists are holding a several days' demonstration against communist leadership). He lived 5 years as a "baba", he lost touch with his family almost totally and he lost his undertaking. His prophecies about 2012 and other natural disasters led to the lack of understanding and permanent refusal, so he decided to go back home and wait. Until then… he's commiting his thoughts to paper..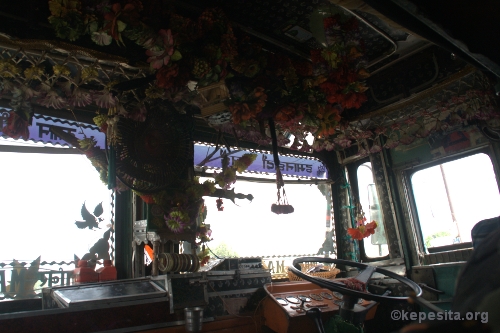 Next day I set out southwards, and at Haridwar I turned east. With short rides I got through rice and sugar-cane fields and, on the second day, I reached the western Nepalese border.




0

/